The Logo Design Secrets Behind our Favorite Brands
Company Logo Designs are Everywhere
We see iconic logo designs every day. Driving to work, while watching tv, browsing a magazine; logos are everywhere. While we see them multiple times a day, we often don't pay attention to the small details that make the logos meaningful. The extra effort put into these logos help to push the brand forward and truly represent the identity of the company.
When you are creating a brand identity for your company, are you thinking of your logo as a means of communication? Does your brand promise reflect in your logo?
The following logos contain elements that push their respective brand further:
Amazon: Taking a look at Amazon's logo, what do you see? Their iconic logo has a deeper meaning than what first meets the eye. Take a look at the arrow and you'll notice that it's pointing to the right, to signify a forward swing. What you may not notice is that the arrow is pointing from A to Z, signifying that Amazon offers deals on everything from A to Z. The arrow element has a curve in it, resembling a smile and suggesting a high level of customer satisfaction from their customers.
---
FedEx: This is the quintessential easter egg logo.  If you're not familiar with it, take a look at the white space between the E and X. Do you notice the arrow? This simple logo design has won over 40 design awards and is studied in many design classes for the work that is done within the negative space.
---
Tour de France: The Tour de France is a globally known bicycle race that has taken place in France each year since 1903. Each year thousands of sponsors vie for the opportunity to be aligned with such a megabrand. The Tour de France logo has a informal fun font, but take a closer look and the R in "tour" becomes a cyclist, the exact target for their brand.
---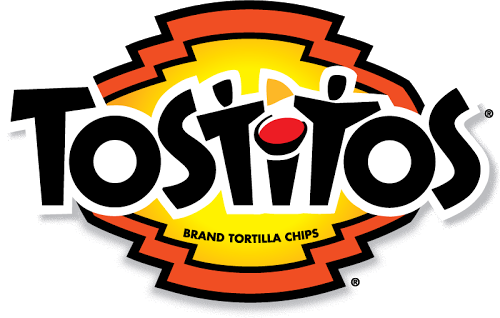 Tostitos: This popular tortilla chip brand has become popular on the party scene and for good reason- their logo encourages it! Take a look at the two T's and you'll see that the letters form people holding a chip, and the I doubles as a bowl of salsa. This festive logo not only serves to entertain, it exudes an energy that aligns Tostitos with a party!
---
Milwaukee Brewers: This Major League Baseball team has seen great success with their logo. Shaped like a glove and ball, the logo is an apparent representation of the team. Looking closer at the glove, you notice that the company logo also includes the initials M and B to represent the team's name. This subtle nod to their hometown team has created fan recognition and increased loyalty from fans who like to share the hidden letters.
---
LogoGarden has DIY and Custom Logo Solutions
These are just a few of the many logos that have made waves in the world of branding for incorporating key business elements into their logo. The creativity and effectiveness of these logos have not only increased recognition for the company, but have created a source of entertainment and positively affected the brand image which has long term positive effects on the company.
Does your company's logo inspire and increase positive recognition for your business? If not, it's time for a change. Our DIY Logo Maker is the perfect solution to getting the logo you want in three easy steps. If you're looking for a custom solution, our experienced graphic designers can help you brand your business and increase brand recognition.