Startup Biz Chat Recap: Business Names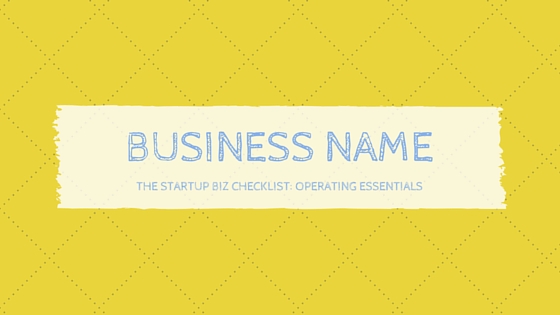 Last week, we launched our first Startup Biz Chat on Twitter. Our president, Tom Feary, answered questions regarding to naming your business. In case you missed it, below is a recap of the questions and answers.
Startup Biz Chat Recap
Q1: Hi Tom! My business name is the same as a small nonprofit in California. This was not intentional. Should I change it?
A1: Depends if there is overlap in service/product. Probably a good idea to if you're competing for digital traffic.
When naming your business it's best to conduct an online search before you go too far down the road. There are a few good tools online too such as Spotify's Business Name Generator that will help find names linked to domain names.
Q2: In SEO personal branding plays an important role in standing out, when do you consider using YOUR name in your BIZ name?
A2: If YOU are the "unique" to your value prop, then yes.
Tom makes great steak. But is it Tom that's unique to steak, his process, the product, experience in his restaurant? If it is truly Tom then go for it – "Tom's Flippin' Awesome Steak". If Tom buys only primo cuts and dry ages his beef then it's probably the protein.  Focus on a uniqueness.
Q3: How tied to your specific industry should your name be vs some random idea/word (I.E. Home Depot Vs Ikea)?
A3: More related to keywords I think than industry for a startup business competing for a share of voice.
Keep it simple is my number one suggestion. Most of LogoGarden's customers are bootstrap entrepreneurs, starting their business from their home while working full time. VC funding, big brand names, and hollywood dreams are far from their minds. They need a fast and quick brand they can market locally to get off the ground. Simple always works and helps communicate your services quickly to the market.
Q4: I want a name for my startup business but can't pinpoint any particular name.
A4: Make a list of things you do, what makes you unique, your value(s), and send to family/friends for help.
Been there. I recently had a hard time with a side project. I wrote down my mission, values, and initial ideas for coming up with a name. I sent the list to a close network of family and friends who knew me and the business I was working on. I had nearly 100% participation and came away with a ton of ideas in addition to perspective and advice.
Q5: What are some of the troubles you've had with renaming/rebranding and any tips for this sort of challenge?
A5: Big one for me was overcoming awareness of previous brand/name. you can create confusion within your market.
If you struggle naming your biz ask family and friends for help. Ideas are everywhere. You can always search online too.
Q6: I know time is a large factor in doing that, but are there any processes that have proven to be more expedient?
A6: Communicating internally can't be overlooked to ensure your team is telling the story appropriately.
Eventually you'll have a product name or business name that you may want to change. Stay consistent as much as possible. When communicating both internally and externally, there is no such thing as too much communication. Under communicating will create a variety of problems.
Q7: How much do you tie yourself to one city/location vs a larger area? (Obviously we went super local :P)
A7: Good question. Depends on selling footprint. I'm a big fan of local. Always good to start there if you can.
If you plan to compete heavily in a geography and if geography is a differentiator, I would suggest you attempt to infuse locality into your name. You tend to see a lot of this by industry particularly in home services or retailers with sales tied to a geography. For example Middle State Building Supply, or Auto Sales of New City.
Q8: Does the image of your logo have to be logically tied to the name of your business? For instance, my logo reflects my personality!
A8: Personality is great!
Just make sure your logo is easily identifiable, easy to read, and easy to understand. Of course add your personality!
Each Startup Biz Chat will have a different topic from our Startup Biz Checklist, so stay tuned for our next one in early June!