Local SEO Marketing Basics for New Businesses: Part One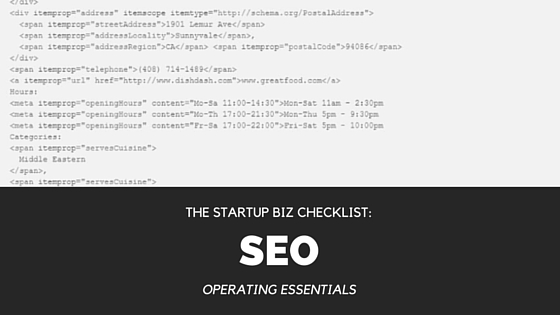 Whether you're just starting out or have long been an entrepreneur, marketing your business and getting customers is critical to your survival. The Internet has deeply impacted how consumers interact with brands and choose products and services. People have moved from "going online" to "living online" and this new era of search has opened new doors for many small businesses. Unfortunately, many small business owners are short on time and money when first starting out to implement a robust local marketing strategy.
If you're not sure where to even begin when it comes to building an online presence and generating more visibility in major search engines for your local business, this basic outline is for you!  When executing any marketing strategy, remember that patience and consistency are critical.
The Basics of Local SEO
1. Fine-Tune Your Google+ Local Listing
15 – 20 Minutes
In order to show up in local search results, you need to set up a Google+ Local Listing for your business. If you have already claimed your listing, great! If not, there's no better time than the present, create your listing now.
When you make your listing, it's important to be aware of the following best-practices:
Business Name – This needs to be your official business name. Do not add your city name, neighbourhood or any keywords in here; if it is not part of your business name it doesn't go here.
Address – Follow the U.S.P.S. or your country of origin's guidelines for address formatting.
Contact Info –
Add your local phone number, this should be the primary phone number on your listing.
Also add a company contact email.
Your website address.
Hours of operation.
Any additional company contact information.
Categories – Your primary category should reflect exactly what your business does,. Pick the most accurate category and while only your primary category will show up in your listing, select multiple categories but keep it to 2-3 at most.
For example, if you are a divorce and family attorney you may want to choose:
Divorce Lawyer
Family Law Attorney
Lawyer
Description – Spend time creating a unique and easy to read description of your business.
Add a few (3 max) links to sub-pages of your website.
Switch up the formatting and include bullet points. Highlight important details by using bold and italicized
Do not spam your description with keywords or location information, it does not impact your local rankings.
Photos – At the very minimum you need a profile photo and a cover photo. Use images that best reflect your business and team, not generic stock-photos.
Don't stop at your cover photo though, add additional images of your business:
Your storefront
Group shots
The parking lot
Shots of the neighbourhood
Company products
Company events
Company vehicles
Get the picture?
If you have videos add these too. The more optimized your Google+ local page is the more enticing it becomes for potential clients and stands out against other local competitors.
2. Optimize Your Website
The Homepage
20 – 30 Minutes
How much content do you have on your homepage? Do you just explain what you do and why? Great, you can use this as a jumping-off point to take this content to the next level.
Review all your title tags – are they local and relevant to your industry? Be sure to:

Include your business name, keyword, and your city.
Do not have the same title tag on every page!
Do not keyword-stuff. Let's say you're a criminal lawyer in Chicago don't have a title tag that reads – "Criminal Lawyer Chicago | DUI Lawyer, Defence Lawyer, Best Criminal Lawyer in Chicago" Say NO! to spam and keyword stuffing.
Try to minimize each title tag to 60 characters or less (don't panic if this isn't possible).

Enhance and update your homepage content.

Talk about your product(s) and services.
Write about the company history.
Discuss your location.
Share information about what makes you unique, who your team members are, what differentiates you from your competitors.
Link to relevant content on other pages within your site.
Add images, etc.
Create a Location Page(s)
30-45 Minutes
Add a location page(s) to your website. If you don't have multiple locations within a city, you can use your contact page to also act as a location page. This page should include:

Store address, contact number, hours, payment options, contact email.
Embedded Google map and any other directions. Make sure you embed this properly.
Description of store, information about the location, parking details, photos of team members, history on location and so on.
Images of the storefront, images of inside the store and team members.
Links to your social accounts – Facebook, Twitter, Google+, LinkedIn, etc.
Title Tags
30-45 Minutes
Go through you website and ensure you have unique title tags on all of your pages.
General title tag practices when it comes to local businesses are:

keyword city, little pipe or a dash, and then the business name.
Example: HVAC Repair in San Diego – HVAC's Are Us

If you are using WordPress install the Yoast WordPress plug-in. This is a helpful tool that can help you stay on track with general SEO basics like title tags, meta descriptions, and so on.
Enhance Your Website Content
30-40 Minutes Daily – Ongoing
Have separate product and/or service (and sub-service) pages – start with your core products/services. Then work your way through the remaining.

Discuss in as much detail as possible your specific products and services. Don't get lazy. Really sell your product and services and educate your visitor.
Add pictures when possible.
Have any customer testimonials? Add those too.
Link to related products and services, and to other correlated website pages (contact page, blog posts, other products/services).
Make sure you have unique meta-descriptions for each individual page.
Add Schema Markup
30-45 Minutes
Add Schema Mark-Up to your website. Schema code helps search engines understand more quickly what your business does and where it does it. Make it easy for a search engine to understand that you are a bakery in Toronto who specializes in French pastries.
You don't have to understand code to be able to implement this on your website. This handy little tool can generate the code for you. All you have to do is:
Generate the code
Add your official business name
Address, and
Phone Number
Copy and paste the code in your header, footer, homepage and contact page. If you have a developer on hand, they can easily implement the code for you too.
Stay tuned for Part Two to find out more tips contributed from our partners at Whitespark.