Choosing the Right Entity for Your Business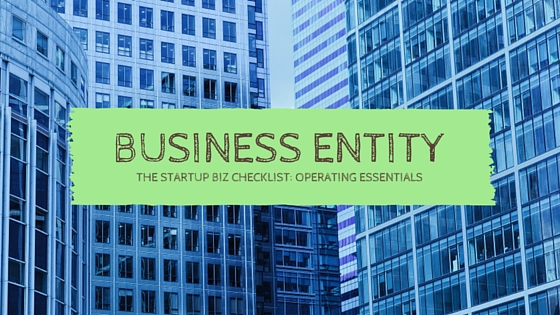 One of the most important decisions a small business owner can make is which entity they'd like to file their business as. But with a couple different options, it can be confusing for first-time business owners to make the decision that's best for them and, ultimately, their business. Here are a couple of the most popular legal entities that entrepreneurs can choose from:
Help For Choosing the Right Entity for Your Business
Sole Proprietorships and Partnerships
It doesn't take much to start a sole proprietorship or a partnership. Just file for a 'Doing Business As' name, apply for the right licenses and permits, and open your doors. If the business is run by two or more people, you will also need an Employer Identification Number (EIN) and you'll have to file another form come tax time. But keep in mind that everything the business owes and owns is tied to your personal assets. In other words, you, and your partner if you have one, will be held liable for the business's debts if it fails. Also, if you do have a partner, you may not be protected if they decide to walk away from the business. So, while running a sole proprietorship or partnership is a lot simpler, it does put an undue amount of risk on the owner(s).
Corporation
Corporations are a very common type of entity. Though, they are a bit more complex than running a Sole Proprietorship. By incorporating, you are greatly reducing your personal risk and protecting your assets by creating a separate, legal entity. And you can sell shares of the company to help raise money. However, this entity will be expected to report income and pay taxes, which can make accounting a bit difficult. Your compensation will come out of the corporation's profits as well, which means you could be paying tax twice – once at the corporate level, and again at the personal level. Electing to be taxed as an S-Corporation solves this issue by allowing profit to pass through the corporation, untaxed, directly to the shareholders, but not every state recognizes the pass-through structure of an S-Corp. Additionally, you have to have board meetings, shareholder meetings, annual meetings, and debate and record every major business decision.
Limited Liability Company
LLCs are rapidly becoming one of the most popular types of business entity because they provide the owner, or owners, with the same limited liability as a corporation, while being much easier to run. LLCs, by default, also have a pass-through tax structure, which means you don't have to file for anything to avoid double taxation. LLCs do not have shares to sell, so you cannot raise money through investment, but the loss of shareholders means fewer meetings. There is no board of directors to worry about, or executive committee to run ideas through. Really, it's just you, your partner if you have one, and your business. Just remember that an LLC is a separate legal entity so, though not legally required, you should have an operating agreement in place and document any major business decisions, just so you can prove you aren't running your LLC like you would a sole-proprietorship.
Deborah Sweeney is the CEO of MyCorporation.com. MyCorporation is a leader in online legal filing services for entrepreneurs and businesses, providing start-up bundles that include corporation and LLC formation, registered agent, DBA, and trademark & copyright filing services. MyCorporation does all the work, making the business formation and maintenance quick and painless, so business owners can focus on what they do best. Follow her on Google+ and on Twitter @mycorporation.