6 Important HR Tasks Every Startup Should Consider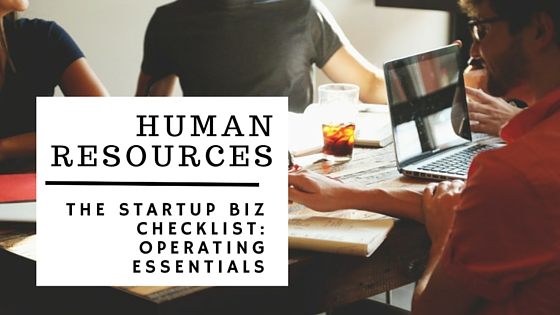 So you have started your own company, congrats! As you begin hiring your first employees, you have some important human resource needs that you might not think about right away. Luckily for you, we put HR on our Startup Biz Checklist because it is a necessity for every startup.
The recruiting process can be challenging, but making sure your HR is established will make your life easier and more efficient. We have put together six important HR tasks that every startup needs to take into consideration.
Essential HR Tasks For Every Startup
1. Handbook
Yes, they may be boring, but handbooks provide structure and expectations for your employees. They also define company objectives and benefits.
2. Culture
As a startup, having a good culture is extremely important. If your employees aren't happy, your business isn't going to be happy. Creating a open, fun and innovative environment is crucial.
3. Recruiting
Talent is greater than experience. Make sure you are hiring for the right reasons. Cash-strapped startups can't afford to hire people that don't jive with the company, aren't motivated and aren't going to stick around. Your goal should be employee retention because firing and hiring is wasted time and money.
4. Paperwork
Consult your legal team to insure you have the proper paperwork for each employee.
5. Benefits
Being able to provide great benefits to your employees is key to a good work-life balance. Benefits go beyond standard things like healthcare insurance. They can be anything from free coffee, gym memberships or company happy hours.
6. On-boarding
Creating a structured on-boarding process about your business allows new employees to adapt faster. Not to mention, it's an easy way to get to know the newbies.
Taking these six tasks into consideration will allow you to establish a good team of employees. Hopefully pouring their blood, sweat and tears into your business, your first employees can help your company grow.